Orange
Roads Closed Throughout Israel as Protesters Take to the Street
23:56 May 16, '05 / 7 Iyar 5765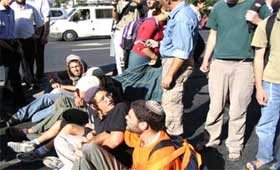 "If you're arrested, you've won!" was the slogan of Monday's mass protests. At least 235 Israelis were arrested during acts of nationwide civil disobedience, blocking major Israeli thoroughfares.

An army of orange took to the streets, outsmarting and outmanning over 4,000 police officers stationed across the country, in the first round of major protests aimed at derailing the proposed disengagement plan this summer. Streets were closed, and traffic paralyzed for up to an hour in Jerusalem, Tel Aviv, Beersheva, Haifa and elsewhere.

---------------------
Speaking of orange.. The Israeli government has apparently outlawed the color orange (Hat tip: Israpundit):
This morning, Minister of Public Thought Matan Vilnai, together with Minister of Public Secuirty Gideon Ezra and Minister of Justice Tzipi Livni declared the color orange to be an enemy combatant. As such, it is subject to immediate arrest and adminstrative detention (without trial) as a significant public security risk.
Orange appealed to the Supreme Court, but Chief Justice Barak quickly ruled that declarations by the Minister of Public Thought could no longer be thought about (except by the Justices), and therefore Orange not only had no standing to raise the issue but was in violation of the law by doing so. Orange quickly departed from the court.
All citizens (at least Jewish ones) found to be wearing the color Orange will be considered in violation of thought rulings and subject to arrest, interrigation and administrative detention, unless they are part of evening wear for those living in the upscale sections of Tel Aviv.
So here's what I have to say about that (since they say a picture can say more than a thousand words :)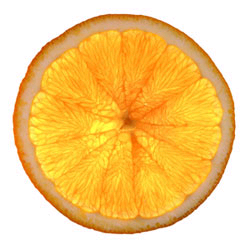 Now doesn't that look beautiful?
Posted by Maria at May 16, 2005 11:58 PM | TrackBacks